Introduction

Like many similar villages Rimington was for many years quite self-sufficient in terms of businesses within it. At one stage it had 4 shops, the last closing as a Post Office around 1999. All of those shops are now homes. Similarly it had 3 garages and now only one survives. However Cosgroves, the ladies and gent outfitters, is in a new building, on the site of Pendle Garage, where it developed. It is clear that Rimington was a place to visit as it offered several tea rooms as well as the the Black Bull public house, which started out as a thatched building but was rebuilt as the Black Bull, it then became The Haven before reverting to the Black Bull. Again that is now homes, with the building having been significantly changed from its previous form. Whilst there are no longer cafes or a public house, Rimington and Middop area is still a popular place to visit with holiday cottages, B&Bs and 2 holiday parks.
The Black Bull
SD 8054 4580
Several different pictures survive of the hostelry in its former days of lime-washed walls and a thatched roof. This was all demolished in early 1901 and work began on the new building a month later.
It was called 'The Haven' for a few years in the 1920s – the 'ideal holiday home'. It reverted back to being The Black Bull Hotel in 1926.
In the 1960s and 1970s it was run by Bill and Marion Butler and became a very popular venue for wedding receptions in this period. They could be hosting two receptions on a Saturday.
Much later the function room became a Museum of Transport created by Michael Blades. It featured a lot of railway memorabilia.
For many years the Black Bull was the starting point of the ex-servicemen's parade to the Memorial Institute on Remembrance Sunday.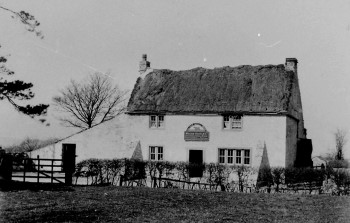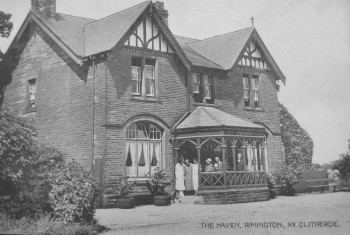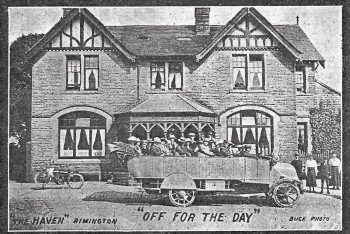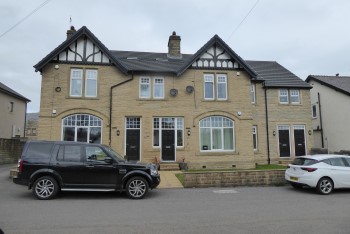 Copley Shop
SD 82084568
Like all the other shops in Rimington this is now a family home.
It was being run by Edwin Townson by the time he was 23 or so, in 1861, right up to his death in 1893, aged 56. This only known picture of the shop shows a family group standing outside it. The girls and boys are all in dark clothes which suggests that they are in mourning and that the picture was taken shortly after their father died . His eldest daughter, Sarah Jane, was running the shop in 1901.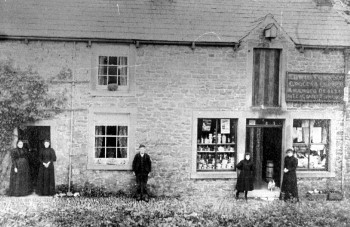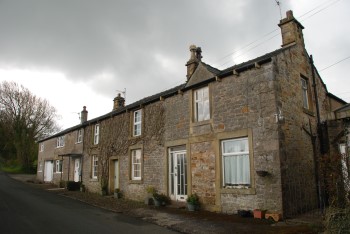 Dale View shop and tearoom
SD 8172 4595
There was a grocery shop in Newby according to the 1841 census. Its location is not known until the 1930s when it was run, at Dale View, by Mrs Daniels, who lived next door at Mosna. Nothing is known about a tearoom at that time. When the Daniels moved Mrs Dugdale moved the business next door to Mosna. She did provided refreshments: ramblers were accommodated in a room over the shop and day trippers, out for a run in their cars and wanting a meal or high tea, would be seated in the next room at the side of the shop. The business closed in 1964.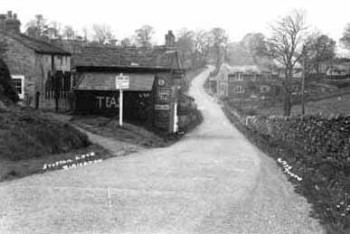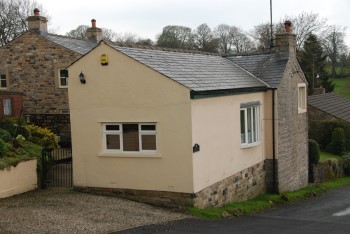 Should you want to find out more abut the Newby shop click here (PDF)
Field House Tearoom
SD 8197 4708
No information is known of this enterprise currently.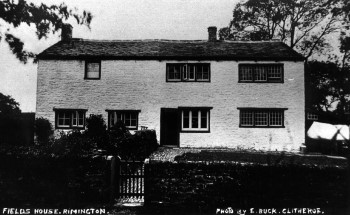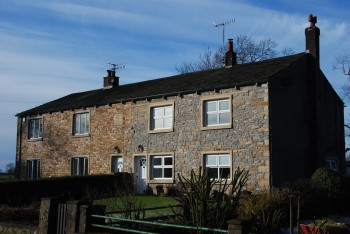 Holme End Tearoom
SD 8095 4633
Mrs Robinson ran her tearoom from 1950 to 1957. It was open at any time but especially busy at weekends for farmhouse teas. Her speciality was ham and eggs, which was considered a treat after the lean war years; and she used the family's goat's milk in the catering too. She also took in lodgers. Her son, Keith, remembers three specialist joiners from Harrods stayed with them when they were working for Mr. Taylor at Greystones who also owned Halsteads Farm. Two farm hands stayed at Holme End at different times whilst working on the farm.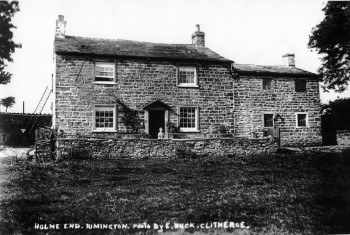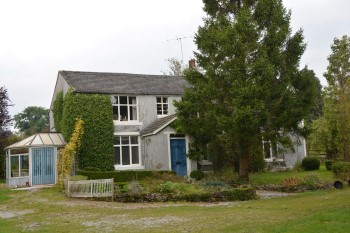 To read Keith Robinson's reminiscences about living at Holme End in the 1950s click here (PDF)
Keighley's Garages
SD 8102 4622
Mr Keighley's garages were built on a tract of land on the roadside between Bridge End and Halsteads. His road transport business really took off when the 1926 General Strike interrupted the milk deliveries going by train into Manchester and its surrounding towns. The local farmers got word he was delivering milk into the towns and got him to take theirs too. The Milk Marketing Board eventually bought the business from him.
During the winter of 1964-65 Bronco Bill's circus stayed on the land where the garages had stood.The elephant got loose one day!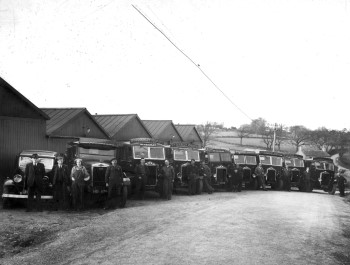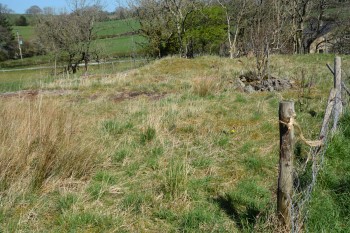 Miss Babcock's Prize Poultry Yards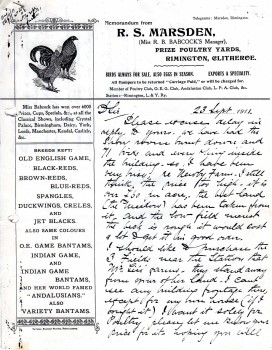 This business was at Moor Close.

To find out abut it click on the follwing link:
Oak Tree Restaurant
SD 8043 4575
Mr. Philip Doyle started up this restaurant in the village around the late 1960s early 1970s. He wanted it in the style of the Box Tree Restaurant at Ilkley. Sometime later he closed it and sold antiques there instead.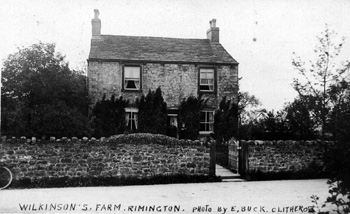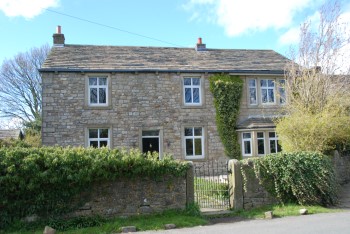 When E Buck took the photograph the RHS extension had not been built and he called it 'Wilkinson's Farm'.
The current owners, Alicia and Ian Brown (2022), found a menu from Oak Tree's restaurant days. What a gourmet meal for £2.10! This menu menu must have been on or after Decimal Day of 15 February 1971 and before inflation started to rise. it is probably therefore from 1971 or 1972.
Pendle Garage
SD 8051 4579
Pendle Garage was run by Edgar Duckworth. During the Second World War he was running fourteen wagons carrying materials for the war effort and undertaking contract work for Bowland Rural District Council. He continued the work with the council after the war, running six or seven little lorries in red livery.
The Cosgrove's business was originally run from part of the garage until the garage closed when it took over all of the premises. The garage was replaced by the current shop in 2004.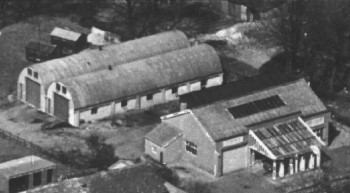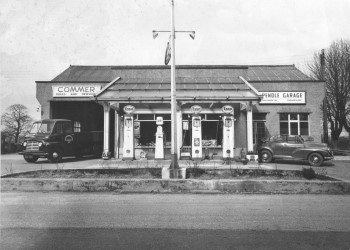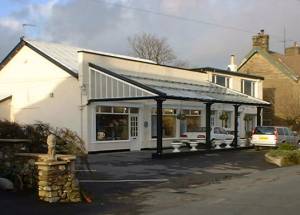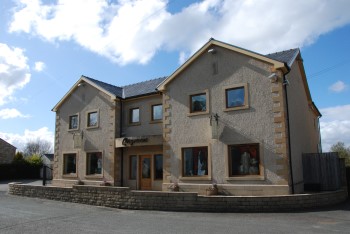 Pendle View Tea Room
SD 8065 4584
In the 1930s Mrs Jack Duckworth was also running a small tea room from her home at 1Pendle View. She is recalled as being 'a nice baker'.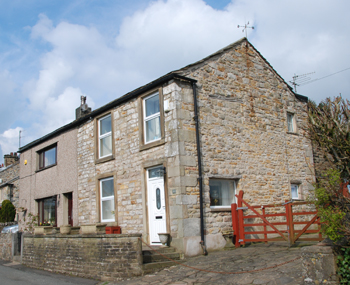 Rimigton Railway Station
To find out about Rimington Staion click here
Rimington Shop
SD8060 4583
There was a general store in what is now Holmelea, Rimington for a long period. Early pictures show it had a storage room above the ground floor grocery for the big bags of flour, grains and other bulk commodities the customers would want.
In the 1930s, when Mr Bracewell was owner, he ran the grocery shop at the front and a tea room area at the back. Much later the shop was owned by a maker of leather goods. He sold wares made of strong leather such as belts and handbags.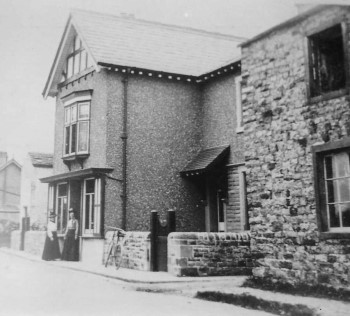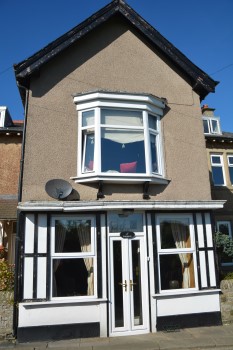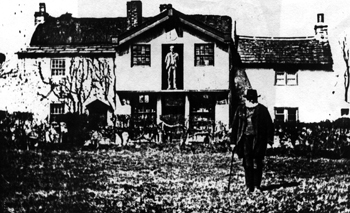 The man standing in the upper doorway of the 3rd picture was Thomas Edmund Duckworth (1852 - 1899), clogger, grocer and organist.
To read about a fire that took place at the shop, in July 1900, click here (PDF)
Spencers' joinery shop
SD 8127 4850
In the 1880s Richard Spencer took over the joinery, wheelwrighting and undertaking business in Stopper Lane. At that time it was powered by a prominent wind sail on the top of the property, however that was blown down in a gale in 1929. Arthur Spencer, his son, in 1929 bought and converted the property now known as Spencer's Cottage. In 1959 the workshop moved behind the cottage and the property in Stopper Lane was converted to houses in the 1970s.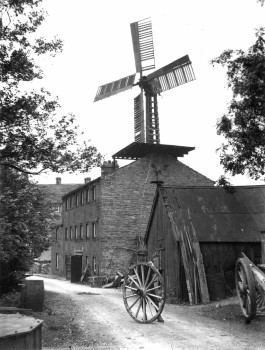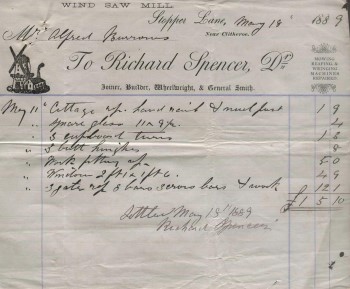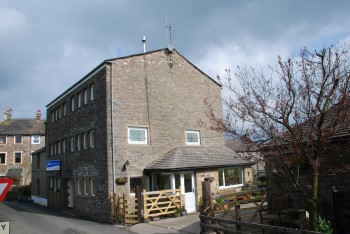 Should you wan tto find out more about the Spencer family click here (PDF)
Below are 2 pictures of Lord Ribblesdale's funeral in 1925, refered to in the article above.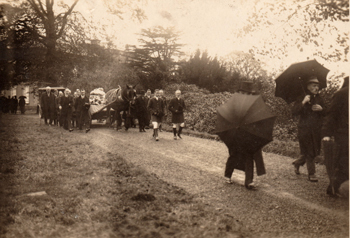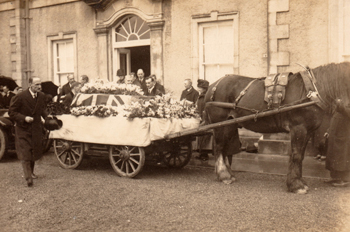 Stopper Lane Post Office and shop
SD 8127 4588
This was the last of four general stores in the village. It served the community for over a hundred and fifty years. Thomas Bank was the grocer here in 1841. (The 1840 Rimington Rate Book shows he was present in Stopper Lane then too, but doesn't list his occupation.) After Thomas it was run for many years by an enterprising Duckworth family, first Robert then his son John, younger brother of Francis. John also ran the Rimington shop too.
In its final years it was run merely as a post office by Mrs Joyce Gorrigan. She had strived to keep the general shop business going by introducing different innovations and offers including a cheaper brand line, pottery work by Jack Thurogood of Gisburn, Farmhouse Fayre cookery by Helen Falshaw, her husband's photography, and soft toys of the famous Sabden Treacle Miners which included Rimington's very own Rufus Rimington based on Rufus Carr. That line was promoted with a giant version of Rufus Rimington posed just outside the shop door. Sadly she couldn't compete with the growing competition from the supermarkets and closed the shop and just kept the post office going in a fraction of the previous shop space until she and her husband retired and moved to Clitheroe around 1999.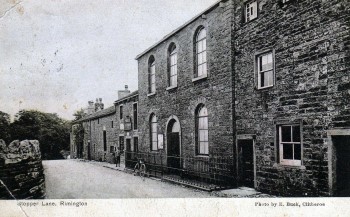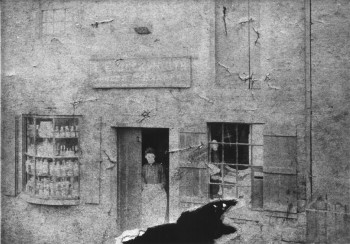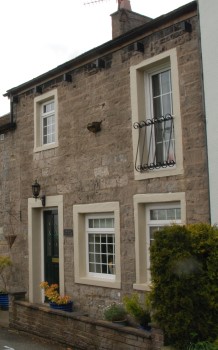 Todber steam museum

No information is known of this enterprise currently.
Yew Tree Slaughterhouse
SD 8146 4590
The slaughterhouse at Newby was one of the last private slaughterhouses in this area before the Ministry decided to have fewer, larger abattoirs. The last butcher was Thomas Bairstow. He died in 1957.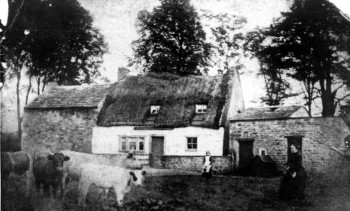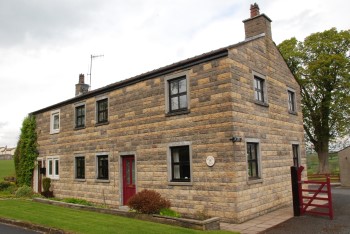 To view the pictures in a larger format click on any of the images and use arrows to move to left or right. Click outside the image to return to the main screen.