A Remarkable Generation of Duckworths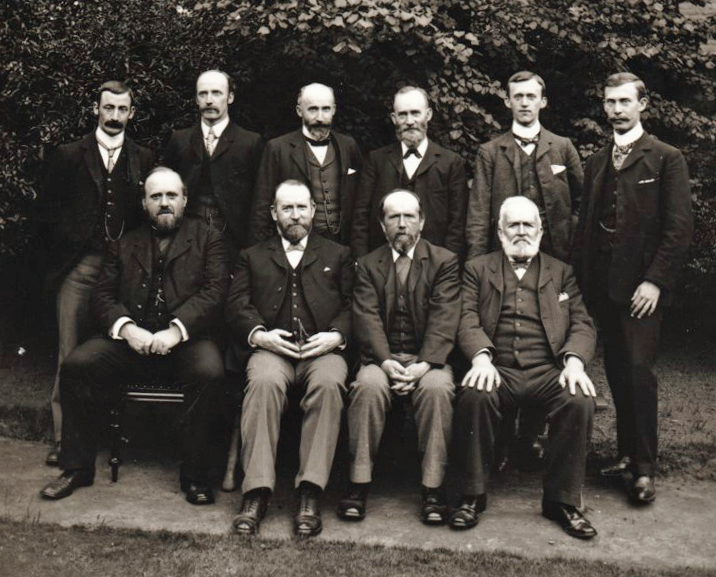 Duckworth brothers and cousins
A note on the back of the original of this picture names these Duckworth brothers and cousins, dressed in their Sunday best, and that it was taken in Rimington. (Sadly, no date.) Through their business skills, talents and praise of God several of them made a lasting impression on the lives of others home and abroad.
The four men standing from the left side are brothers. The first is John Duckworth (1871-1932), the youngest of them. He lived his whole life in Rimington. He was a letter carrier around the village before taking on the grocery business after his older brother Thomas Edward died in 1899, who'd taken it over following their father's death in 1887.
He was living at the Stopper Lane premises at the time of the 1901 census, next door to the Wesleyan chapel. He was a 30 year-old widower then, with a one year-old daughter, employing two of his sisters and a grocer's assistant (who later married one of the sisters.) He later lived at Deneley, Stopper Lane. John's sales patter was recalled by author Dorothy Whipple in her autobiography "The Other Day" published in 1936. She holidayed in the village as a child; her grandmother lived there.
There were two shops, one in either half of the village, both kept by the same man. This was awkward from the customer's point of view, because if you went to the lower shop (now Holmelea, Rimington) what you wanted was sure to be "up at t'other shop," and if you went to the the upper (now The Old Post Office, Stopper Lane), it was sure to be "down at t'other shop."
The proprietor lived at the lower shop, but he attended at the upper during the day, leaving the other in the charge of his wife. If you went there, you were quickly served, but if you went to the upper shop it was a prolonged business. The grocer had an assistant called Richard, who was as slow as himself. They both looked as if a bag of flour had fallen upon them and as if their wits were hopelessly entangled in the string they kept in such confusion in the counter drawer.
This is the sort of conversation that went on between them while you waited.
Grocer, standing at the counter shouting backwards:
"'Ave we any ground rice, Richard?"
Voice from the interior, after a pause:
"Aye, I think so."
"Where is it?"
After a further pause:
"I don't know."
"Don't yer?"
"No."
"You can't think on?"
"No I can't. Not for the moment."
"Is it down at t'other shop, think you?"
"Well I can't rightly say. It might be."
"Appen that's where it is, then?"
"Aye, 'appen."
The grocer then turned to me at the counter:
"You'll likely get it down at t'other shop," he would say encouragingly.
John was also the organist at the Wesleyan Chapel next door to the Stopper Lane shop. He died in 1932 aged 62. He was married twice and had two children.
The man standing next to John is Francis Duckworth (1862-1941), grocer, organist and hymn tune writer. (See 'People of the Past' section of Rimington's Heritage on the Rimington.org website.) He married Elizabeth Carr at St. Ambrose Church, Grindleton, 1887. They had two children, Francis Carr Duckworth, and Margaret, who died aged 28. Francis began his grocery career working in his father's grocery and drapery shop at Stopper Lane. He was born at the home of the shop down the lane in Rimington village in 1862 before the family moved to Stopper Lane prior to 1871, taking over the business run by Thomas Banks.
The third man along is their brother Joshua (1856-1925). He started his working life at 14 years of age indentured apprentice to William P Hartley, wholesale druggist and drysalter then in business in Colne, which was succeeded by Messrs Arthur Tempest and Caleb Duckworth, Joshua's brother, who in 1875 began a printing department. Five years later Joshua conducted the printing on his own.
He was one of the first people to visualise the possibilities of moving pictures where "Pictures Only" were "housed" as a permanent show, for in 1906 he erected the first cinema in the country for the screening of pictures. (See Page 7.) At the time of his death his son Edgar was the sole proprietor of the Empire Super Cinema, Derby, and of the Regent Picture House, Tipton. (See pages 8 & 9.)
He was also one of the first gentlemen in Colne to take an interest the phonograph and was one of the earliest possessors of a motor car. He had a long association with the Wesleyan Chapel, Albert Road, Colne, and at Stopper Lane's, printing their promotional posters and other leaflets.
He died in London May 1925, aged 69, and was interred at Colne Cemetery. A memorial service was held at Stopper Lane Wesleyan Chapel Sunday June 7th 1925. His wife Mary Elizabeth had died 13 years previously. He left his son Edgar and two daughters, Marie, who first lived at Colne then moved into "Abbotsdene", Rimington. She was a pianist and gave lessons there. And Alice, an artist, who married Wilson Loynd. She died in 1944 and was interred at Salem Congregational Chapel, Rimington.
The fourth standing man is Caleb Duckworth (1854-1937). He was also associated with Sir William Pickles Hartley, the jam maker, in his early career. (See Joshua above and 'People of the Past' section of Rimington's Heritage on the Rimington.org website.) When Sir William established his jam-making enterprise at Aintree, Caleb and Mr Arthur Tempest bought the Colne business. Caleb became soul proprietor after Mr Tempest died in 1877.
He was a member of the Overseers of the Poor Board, and many charitable institutions in Colne, including the Hartley Hospital. He was also a Trustee of Albert Road Methodist Church, Colne, the Methodist Churches at Langroyd and Stopper Lane.
He married Mary Harrison Catlow at Blackpool in 1877. They had five children, three boys and two girls. The youngest son died young. His other two sons are standing next to him in the picture, Arthur, born 1878, and Robert, born 1880. They took over the running of the business which had moved to Victoria Works, Colne Lane. Robert became a Justice of the Peace. Caleb died in a Manchester nursing home in 1937 aged 83, and was buried at Colne Cemetery.
All the four seated gentlemen were brothers and 1st cousins to the first four standing, though the first one seated on the left was actually half brother to the others. He was Revd Edmund Duckworth (1858-1930) from his father Caleb's second marriage to Ellen Blakely or Blakley, and way the youngest. He had emigrated to America by the time he was 24 years old to preach the word of God. He wrote a letter to a cousin of his impressions of the country.
Central Mine
Nov 8 [18]82 Keeweenaw County
Michigan, U.S.
My Dear Cousin & family
Since last I gazed upon your face I have changed country...
In this county nine tenths of the people are Cornish. Being exclusively a mining neighbourhood we have here a large influx of the English element. The Cornish people are known everywhere for their excitability and the warmth of their religious feelings, as a result our Services are full of fire and Spiritual energy...
This is doubtless the great country of the future. It is a country of magnificent distances. There are millions of acres of land (rich and productive soil) unoccupied. Notwithstanding the great influx of People they are not ever felt, they are distributed over this vast continent and lost or at least unperceived. Do not think of this country as a vast wilderness, it is no such thing. There are customs here unlike England many things which would appear strange but they wear off and you become accustomed to the American way of life styles and life.
One thing is very characteristic here is the freedom with which strangers is perceived and the way in which the poor and needy are helped along. If a man cannot succeed here he cannot at all in the world.
The product of the land is amazing. I have walked through fields of wheat and oats taller than myself and I am 6 feet...
Edmund Duckworth
Edmund returned to visit family in England on at least three occasions. In late Spring 1891 (by which time he was living at Oconomowoc, Wisconsin) he gave sermons at Stopper Lane Wesleyan Chapel and the Wesley Chapel, Hargreaves Street, Burnley. And in Summer 1921 he preached at Stopper Lane again. Neither of these occasions could be when he sat with his brothers and cousins for the photograph. The first time is too early because the two Caleb's sons, Albert and Robert, would barely be teenagers in 1891 (born 1878 & 1880), and 1921 is too late because his brother Joshua, pictured, passed away in 1920. Edmund died in 1930 aged 72. He was laid to rest in St. Louis Cemetery. He doesn't appear to have left any family.
The second seated gentleman is Joshua Duckworth (1849-1920) of Burnley and St Anne's on Sea. He had a tobacconist's shop for about 50 years on Manchester Road, Burnley, and was also a stocks and shares broker of St. Anne's on Sea, but started work as a warehouse worker at a mill in Calder Vale.
He became a director of several firms: Messrs B. Morris & Sons, a tobacco firm in London; Keighley Green Mill Company, and of Burnley Building Society. He was a member of the Mechanics Institution and a vice-president of Burnley Swimming Club. His obituary also mentions he had a good tenor voice. He married three times but had no children.
Moses Duckworth (1840-1923) is the next brother. He died at home in Burnley, a retired cotton manufacturer. His parents moved from Rimington when he was 7 years of age. He began working at around the age of 9 as a doffer in Keighley Green Mill, Burnley, earning the princely sum of 2s 6d (12.5p) per fortnight. Later he turned to weaving and started manufacturing, and with his father was associated with Messrs Thornber. However, the effect on the cotton trade due to the American Civil War caused a slump in business and he went to Olive Mount Mill, Whittlefield, as manager where he stayed for many years before joining Mr John Stansfield as partner at George Street Shed which was running 500 looms in 1891.
He avoided public life and enjoyed reading, country walks and bowling in his retirement.
He married Sarah Keighley and of their seven children, 2 sons and 5 daughters, just 2 daughters survived him.
The last brother seated is Robert Duckworth (1835-1922) . Born at Newby, he was the eldest child of Caleb and Ann nee Jackson, and older than his brother Edmund by 23 years. He was baptised at St Mary's the Virgin, Gisburn. He had no day school education and was winding bobbins at the age of 5. Three years later he began work as a hand loom weaver, and worked in one cotton mill or another up to his retirement.
He married Margaret Ashworth at Holy Trinity, Burnley in 1857. They had 9 children. The first 5 were born at Burnley, the last 4 at Rimington (probably Newby) where Robert had returned to by 1866 to work as a power loom overlooker at Newby Mill of which his father and stepmother were the first tenants. One of these latter children was Walter who, like several others in the family, went into the grocery trade, and was also an off-licence holder in Burnley. He died 3 months after his father.
Robert's 85th and 86th birthdays along with a brief history of his life, were reported in the Burnley News. It was used again following his death at his daughter's home at Padiham in January 1922, just a few weeks short of his 87th birthday.
Robert Duckworth 1835-1922
It would only be fitting to give a mention of Thomas Edmond Duckworth (1852-1899) the elder brother of Caleb, Francis and John. Although he died before the group picture was taken he did feature in two early other ones. It is fortunate for us that he did because they give a fascinating glimpse of the Rimington shop (now Holmelea) he owned and main street it stood on at the close of the 19th century. Neither of which look the same today.
Thomas Edmond is the younger chap. He was first a clogger before becoming the shopkeeper. His young wife Mary Agnes died in 1878 aged 25, probably due to complications following the birth of their only daughter Mary Ann a few days earlier. The elderly man pictured is John Duckworth (c1817-1897), former weaver, and second cousin, once removed.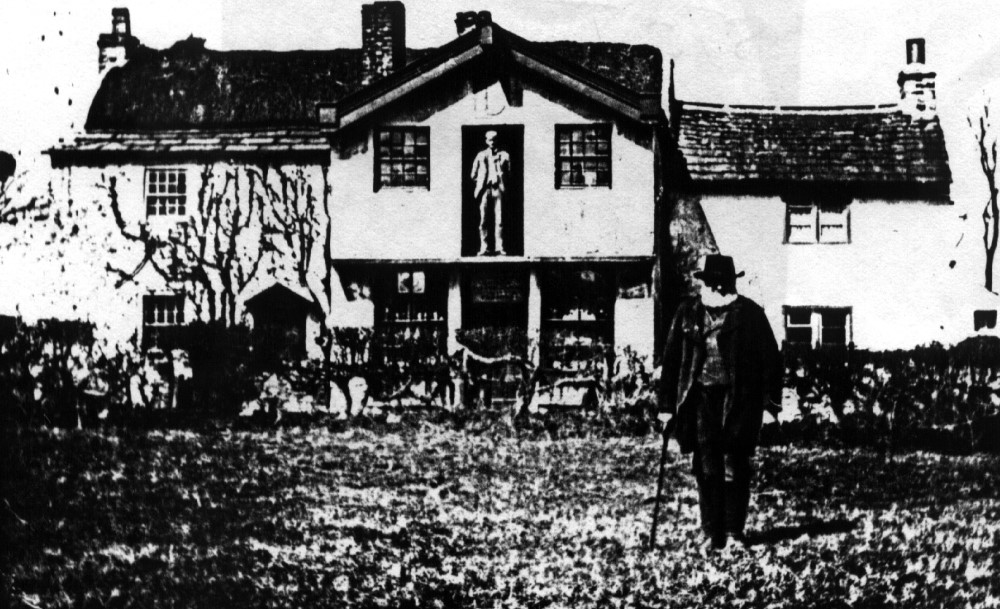 The Rimington shop before it became, L to R Abbotsdene, Holmlea and Swanside, now Hecate.
The shop is the building behind the two men. To the left is Sandilands Farm with a porch, which is no longer there.