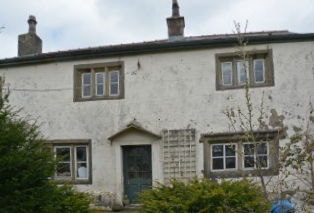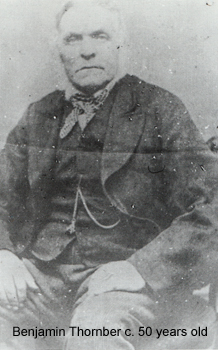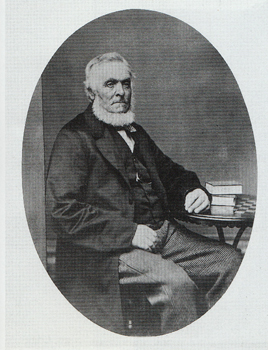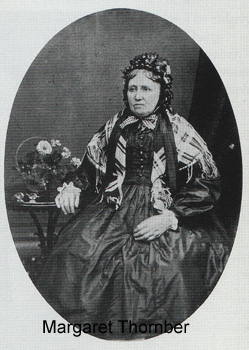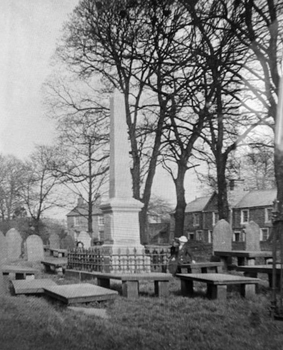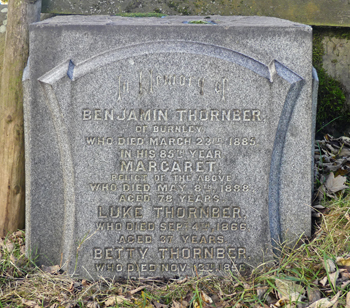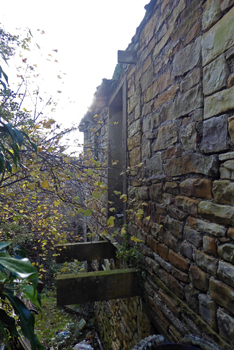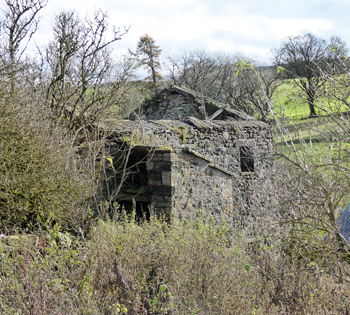 On 9th June 1800, Elizabeth ('Betty') Thornber 21, spinster, gave birth to Benjamin Thornber who was baptised in the parish church at Gisburn in Lancashire. In 1829, Benjamin married Margaret (nee) Duckworth. While the Thornbers at that time were identified with tailoring, the Duckworth family were from Gisburn but living in Rimington and Newby and were identified with weaving.
Benjamin and his young family settled at Lower Gills farm, Rimington, where, as a tenant, he and his young family earned their living by weaving. The structure of the house though somewhat modernised, remains much as it was then and in the yard there is still the two storey loom-shop (see images above) where between tending animals Benjamin and his family wove yarn into cloth.
By 1851, the year of the Great Exhibition, there were eight mouths to feed (see census record in Archives) and at around this time the mechanisation of spinning and weaving cotton in places like Marsden and Burnley made it increasingly difficult to earn a living in the traditional way. And so we can imagine, by necessity and somewhat reluctantly, Benjamin aged 51, and Margaret, put all their belongings into a handcart and with their children moved from the streams and fields of country life here in Rimington to the streets and powered looms of a tough new life in Burnley. (See above image of Benjamin at about 50).
It is remarkable to note that within 5 years Benjamin had started out with a spinning shed of his own, attesting to the energy, skill and dedication he had to improve life for himself and his family.
In 1859 out of 3 million bales of cotton imported into England, 2 million came from America, not only a supplier of raw material but a principal market for our cotton textile trade. Shortly after the outbreak of the Civil War the North blockaded the ports of the Confederate states and by 1862 Lancashire's cotton supplies were effectively cut off. Yet despite the shutting of mills and the resulting poverty B. Thornber and sons survived and later expanded when trade revived. Benjamin had grown-up sons, and Margaret Thornber's nephew Caleb Duckworth as a partner, who together with at least six members of the two families under the name of Duckworth and Thornber worked 72 looms at Market Bridge Mill.
Subsequently, decades of labour saw the spectacular rise of B Thornber and Sons and when he retired in 1883 at the age of 83, Benjamin was wealthy enough in 1884 to give £500 towards the new Victoria Hospital, Burnley. It is extraordinary to note that at the height of B Thornber and Sons' fortunes, the 'vast spinning and weaving complex' was said to be the largest of its kind in the world with 100,000 spindles and 2,600 looms.
Benjamin died on 22 March 1885 and was buried in the village of Gisburn where he had been christened. The road was full of workers and such was the respect and affection of the mourners that the carriage procession stretched from the church back up to Cold Weather Hill. The 12 ft. granite monument (see image above) erected in his memory no longer stands in the churchyard, however the plinth remains behind the church beside the back wall. (See image above)
Holmes Mill in Clitheroe, now a hospitality complex, was formerly a weaving mill run by James, grandson of Benjamin Thornber, who relocated his business back over Pendle Hill in 1906. The Thornber cotton dynasty of six generations finally came to an end when his descendant James Thornber relinquished Holmes Mill in 2010.
Source: The biographical information about Benjamin is taken from the book 'A Lancashire Family Inheritance' by Frank Thistlethwaite, Cambridge 1966, which offers a detailed and fascinating account of the Thornber family.