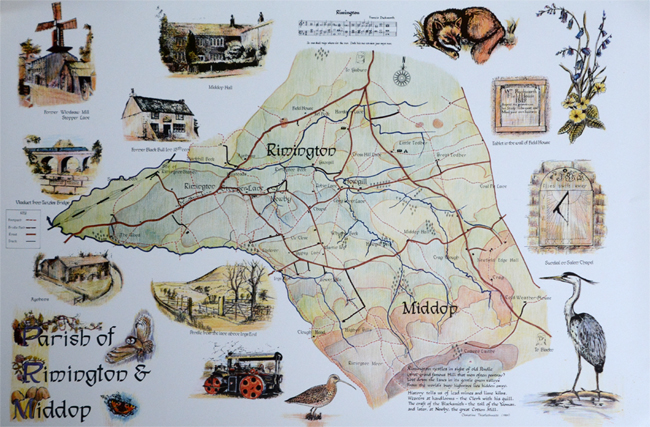 The area known as Rimington is actually two civil parishes; Rimington and Middop. It is a place of many parts spread over quite a large area and includes the hamlets of Newby, Stopper Lane, Martin Top and Howgill.
The village has its own village hall, the Rimington Memorial Institute built in 1927 to commemorate the First World War. The institute is the venue for Parish Council and WI meetings, whilst indoor bowls, table tennis, and lunches take place there regularly as well as village dances and other events.
It has a playing field, The Coulthurst Jubilee field. There The Pavilion (opened in 2019), provides changing facilities and has a bar and social area for village events. There are also tennis courts and a children's playground. It hosts the very successful Rimington Football Club.
There is one place of Worship, Salem Congregational Chapel, built in 1817. It is a listed building and has a fine sundial, with the apt phrase 'Time flies swift away'. There was a Wesleyan Methodist Chapel sited at Stopper Lane which closed and is now two homes. Francis Duckworth, the composer of 'Rimington' and other tunes was brought up in the village post office and shop, next door to the chapel. He played the organ there for a few years before moving to Colne. Francis is buried in Gisburn on the north east side of the churchyard. His memorial is of grey granite and has the tune inscribed on it.
Rimington and Middop has a very varied heritage and in the past had a mine, cotton and corn mills, quarries and other places of employment. Now the employment in the village is mainly farming and its surroundings have been formed by the many years of cattle and sheep farming which have produced the rich texture of fields, lanes and small woods. A section of the Roman road from Ribchester to Elslack runs through the area. Sadly the Black Bull, its only public house, is now closed and that boasted a rich history.
Two establishments that do remain are Cosgroves, a ladies fashion house, and Rufus Carr's garage, founded by a local character, now dead, who was a great steam enthusiast. He could often be seen driving a traction engine along the roads.
Until 1974 it was part of Bowland Rural District Council within the West Riding of Yorkshire. Since then it has been in Lancashire as part of Ribble Valley District Council. Downham Bridge still has evidence of the old boundary carved in it.