INTRODUCTION
In July 2017, in recognition of the 90 years since the Rimington Memorial Institute was opened, an exhibition of photographs and memorabilia was held in the Institute.A significant exhibit was an album researched and compiled by Alison Pilkington which included information that she had compiled about all those on the World War 1 and 11 plaques that record those from Rimington and Middop who died in these wars. That material is presented below.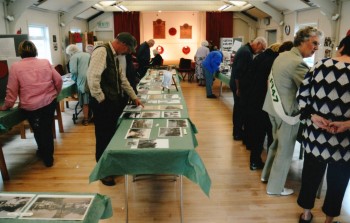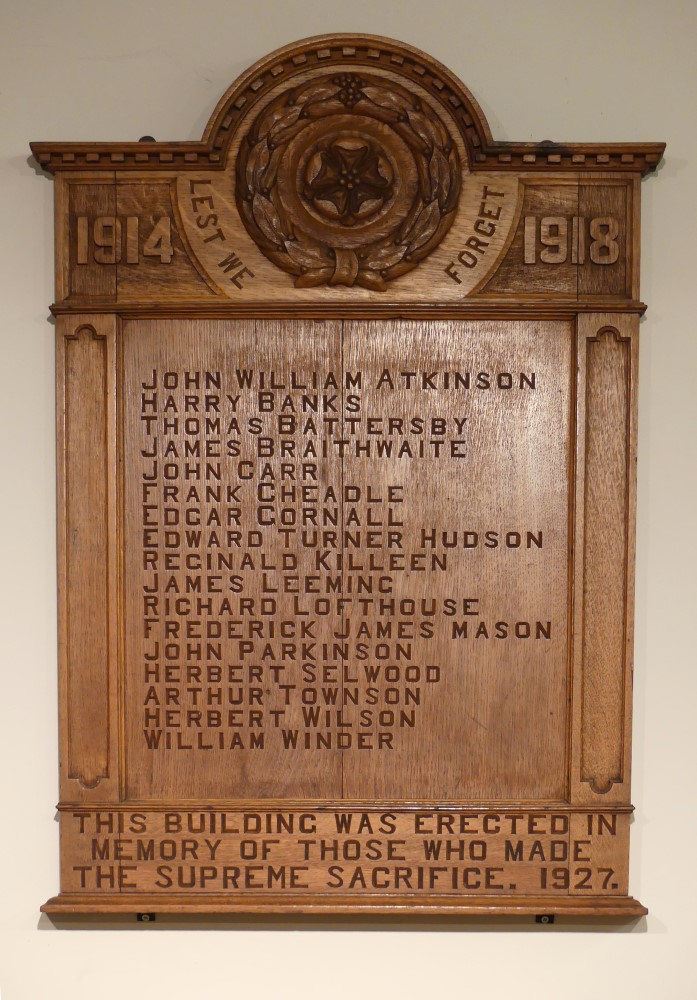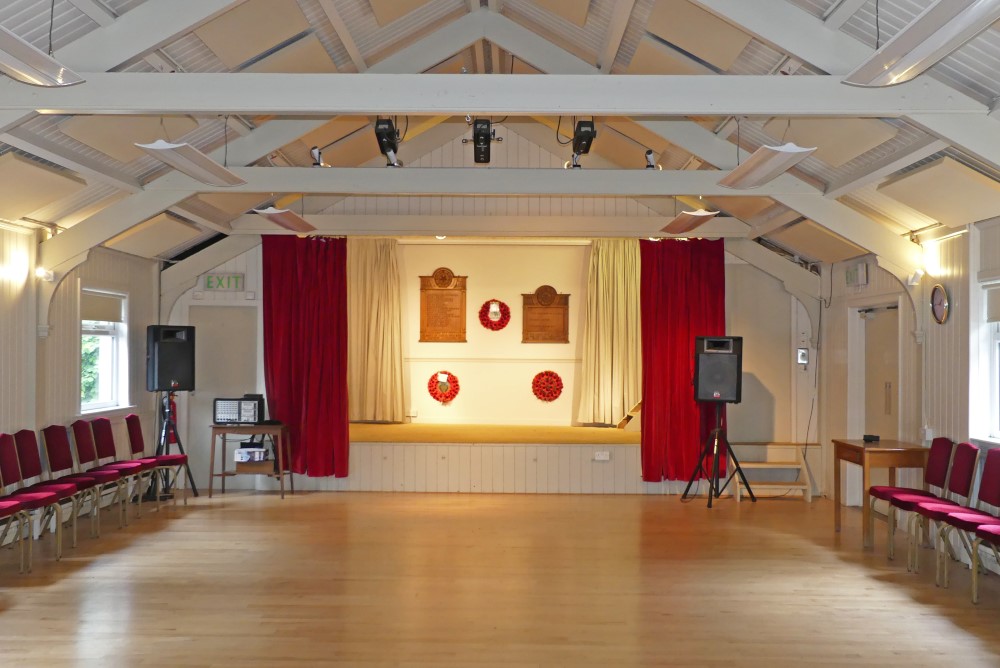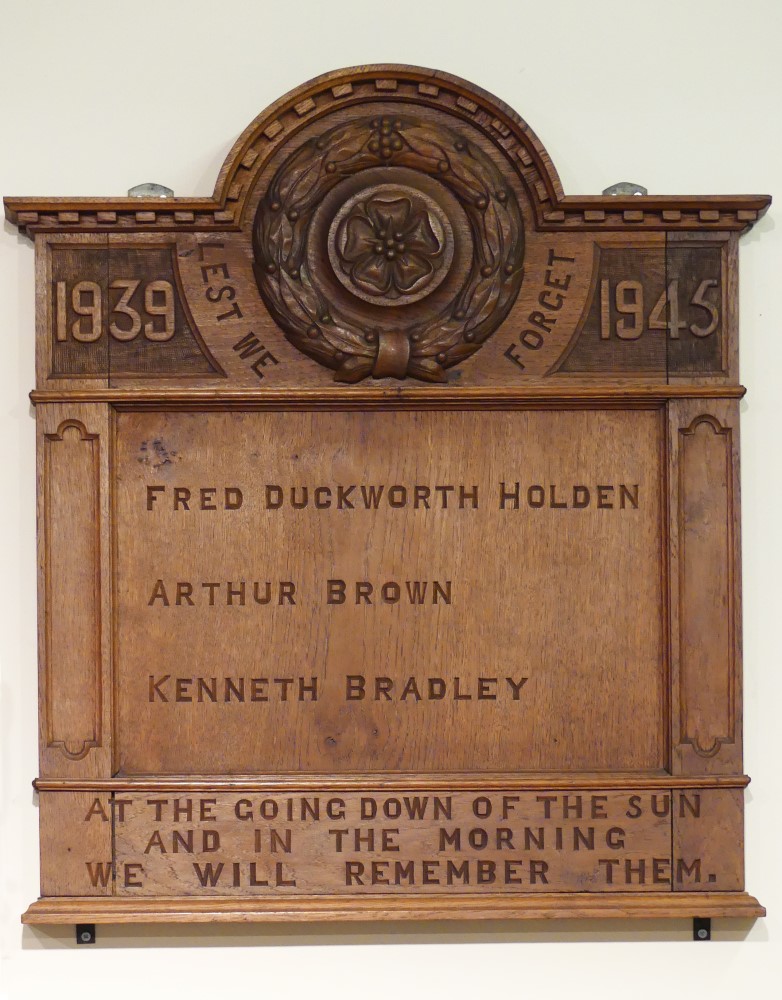 WORLD WAR 1
JOHN WILLIAM ATKINSON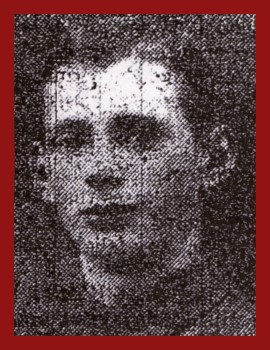 PRIVATE
ROYAL WORCESTERSHIRE REGIMENT
DIED: 12 December 1917 AGE 20
Born at Barrow Brows Farm, Anna Lane, and Bolton-By Bowland the son of John and Elizabeth (nee Frankland) Atkinson. In the 1901 Census he was registered as living at School House, Newby. In 1911 he had moved to Robinson Street, Chatburn and worked at the Victoria Mill. He joined the army just after his 19th Birthday. According to press reports his parents thought that he was on garrison duty and not in any danger He was fighting the Bulgarian Army in the Balkans and died from his wounds at the battle of Dojran Salonica He is buried at the Sarigol Military Cemetery in Greece and is remembered at the War Memorials at Martin Top Chapel and Chatburn.
HARRY BANKS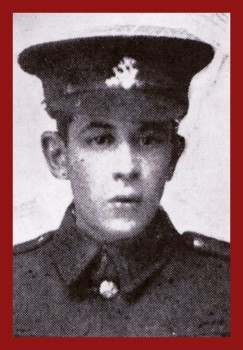 PRIVATE
DUKE OF WELLINGTONS WEST RIDING REGIMENT
DIED 4 November 1918 AGE 22
Harry was the only son of Henry and Elizabeth (nee Wilcock) Banks and was born at Bridge End, Rimington. Later he was living at Rimington Mill before he enlisted at Keighley. He had only been in France for 2 weeks prior to his death so near to Armistice Day. It is reported that friends met at the Stopper Lane Wesleyan Chapel to pay respects as he had been at home only 6 weeks prior to his death. He is remembered at the Caudry British Cemetery in France and also at the Gisburn Memorial.
THOMAS BATTERSBY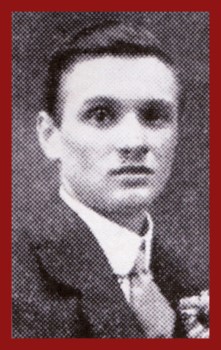 CORPORAL
MACHINE GUN CORPS
DIED 22 March 1918 AGE 22
Thomas was born on Christmas Day in 1896 in Chaigley, the son of Thomas and Elizabeth Battersby. In the 1901 census he was living at 10 Albion Street, Clitheroe. In the 1911 census he lived at Mylah Farm being employed by Mr. William Robinson. He enlisted at Keighley and was reported missing at the Battle of Hargicourt. It was hoped that he may have been taken as a POW as others had. His sister, who lived in Gisburn, placed adverts in the local press for more information. The Army Council notified his family on 24 October 1919 that he had officially been killed in action. His father died and his mother moved to Oddies Terrace, Downham Road, Chatburn. He is remembered at the Pozieres memorial in France where 14,652 soldiers who died between 21 March 1918 and 7 August 1918 and have no grave are named. He is also named on Gisburn War Memorial.
JAMES BRAITHWAITE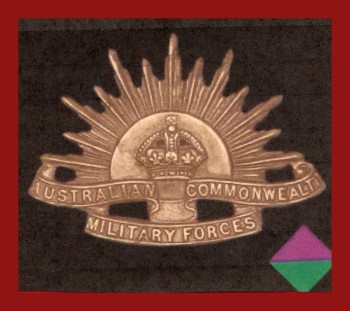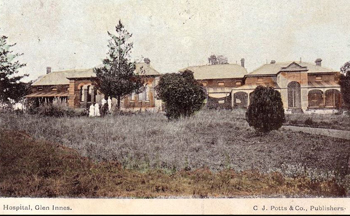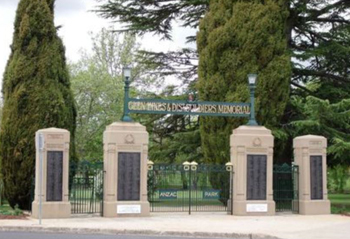 PRIVATE
ROYAL AUSTRALIAN INFANTRY
DIED 5 August 1916 AGE 27
James was born at Great Harwood, the son of Nancy Braithwaite. In 1901 he was registered as living at Little Todber Farm being the foster son of John
Slinger. He then moved to Mill Cottage, Rimington where his mother was the housekeeper for Mr. John Whipp. Soon after he emigrated to Australia to Glen Innes in New South Wales where he settled. He was due to marry until the war interrupted his plans and he enlisted in the Australian infantry. He was part of the 18th Battalion which lost 62,000 men. He is remembered at the Villers Bretonneux Memorial on the Somme and also at the National Australian Memorial in Canberra. Mr. Malkinson the Pastor of Martin Top Congregational Chapel led a service of remembrance in 1916. He is also named on the Martin Top and Gisburn Memorials.
He worked at the hospital in Glen Innes and his name is on its War Memorial gates.
JOHN CARR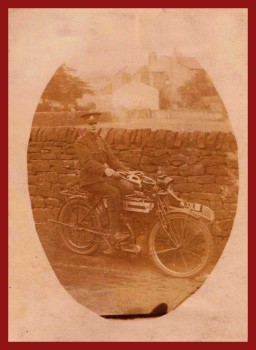 PRIVATE
EAST LANCASHIRE REGIMENT
DIED 3 June 1915 AGE 16
John or "Jack" as he was known was born in Rimington, the second son of John and Clara (nee Longbottom) Carr. In the 1901 census he was living at Stopper Lane but later his family moved to Bridge House, Chatburn. He worked for the Yorkshire and Lancashire Railway Company as a plate layer. He is reported to have been shot in the head on the Gallipoli Peninsular. He is named at the Helles Memorial in Turkey along with another 21,000 servicemen He is remembered at Martin Top Chapel, Gisburn and Chatburn Memorials. There is also a plaque at Chatburn Methodist Church dedicated to him.
FRANK CHEADLE
ACTING BOMBARDIER
ROYAL FIELD ARTILLERY
DIED 19 September 1916 AGE 24
The son of Frank and Bessie Cheadle, Frank was born in Exeter, Devon In the 1901 Census he was living at the Pendle Hotel, Barley but by 1911 he was living with his parents at the Black Bull Hotel in Rimington working on local farms. He enlisted at Keighly being part of the D. Battery 96th Brigade. He is remembered on the Thiepval Memorial in France on the Somme. He is also remembered on Gisburn's Memorial.
JOHN EDGAR THOMAS GORNALL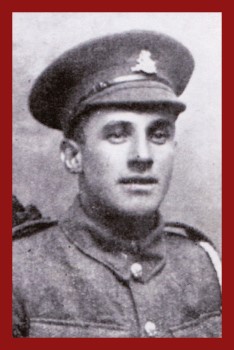 PRIVATE
DUKE OF WELLINGTONS WEST RIDING REGIMENT
DIED 29 July 1916 AGE 27
John's father John was born at Melling and his mother Ellen Robinson was born at Easington, Slaidburn. John was born at Rimington with his family working on the Gisburne Estate. In the 1911 census John was living at Craggs Farm, Sabden working for George Whitwell. Later he too worked on the estate. His mother died in 1906 and he enlisted at Halifax only later to die of typhus whilst in France. Reports of a memorial service held St Mary's Church Gisburn stated that the vicar Rev. J. Hislop described John as being "A man who never spared himself in anything he undertook " and the congregation sang Peace Perfect Peace. He is remembered at the Puchevillers British Cemetery in France and also at Gisburn. In a double blow his sister Violet married John Boynton who was the gardener for Lord Ribblesdale. He also died in the war in 1918. The Gornall family are all remembered at the family grave at Dalehead Church. His father died in 1922.
EDWARD TURNER HUDSON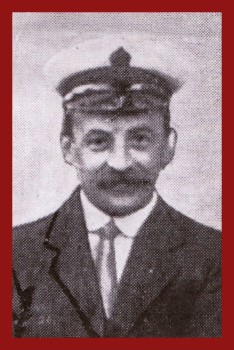 PRIVATE
KINGS OWN LANCASTER REGIMENT
DIED 6 June 1917 AGE 36
The son of James and Amy Hudson, Edward was born in Blackpool. His father died in 1891 and the family moved to Colne where his mother originated. In 1911 he was living with his sister Verena in Colne but married Margaret Berry in 1912. He worked in Blackburn and then on farms in the area before becoming an insurance agent in the area. He settled at Hill Top Farm Downham. He enlisted on the 6th January 1917 at Preston but died of his wounds in France. He is remembered at the Etaples Military Cemetery in Bologne in France and also at St Leonard's Church Downham He is also on the Colne and District Co-operative Roll of Honour.
REGINALD VICTOR WHITELY KILLEEN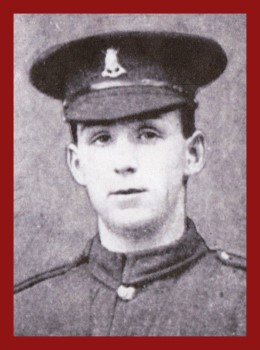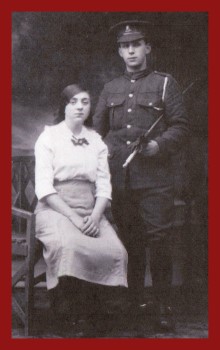 TROOPER
DRAGOON GUARDS PRINCE OF WALES REGIMENT
DIED 02 May 1916 AGE 18
Born in Hoyland, Barnsley Reginald (Reggie) was the son of a police officer. They moved to Leeds then Keighley before his father Edward was posted as the Police Inspector at Bolton-By-Bowland. He enlisted after a meeting at Bolton-By- Bowland School Room. His elder brother Henry was wounded in action and returned to hospital in Manchester taking no further part in the war. Reggie was sent to France. In October 1914 Trooper Boyer wrote to his parents: "I thought it my duty to write and let you know the sad end of Reggie. I feel sorry, he was my mate. I am in the same troop and squadron and he died a hero fighting. His death was instantaneous. He had no pain. I was only 5 yards away when he was killed.'' At his remembrance service special constables from around the area attended. He is buried at the Vermelles British Ceremony France and also named on the War Memorial at Bolton- By- Bowland.
JAMES LEEMING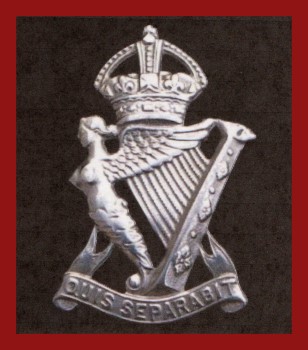 PIONEER (SAPPER) ROYAL ENGINEERS
DIED 6 August 1917 AGE 45
James was born at Newton the son of Joshua and Anne Leeming. In 1891 his family were employed at Buckthorne Farm by Mr. John Hartley. James married Lily Hidden in 1898 and was living at Back Lane Cottage, Rimington in 1901. Lily died in 1910 and by 1911 James and one of his children, Harold, were then living with the Briggs family at Ellenthorpe in Paythorne. Later he and his 3 children had moved to Ings End, Twiston to live with his sister. He worked for Bowland Council for 20 years as a road engineer. When the call came for experienced road builders to go to France to help rebuild roads but not take part in active service James enlisted at Keighley in December 1916 to be part of the Road Construction Corps. Unfortunately he died of meningitis after only being in France for a few weeks. He left his 3 children fatherless. He is buried at Saint Pol Communal Cemetery and also remembered at the War Memorials in Gisburn and Downham.
RICHARD LOFTHOUSE
PRIVATE
DUKE OF CAMBRIDGESHIRES OWN
DIED 8 September 1917 AGE 24
Richard's father George was born in Rimington with Richard being born at West Marton. In 1911 he lived at the Manor House, Rimington working for farmer John William Gill. Later his parents moved to Higher House Farm, Paythorne and then Crow Park Farm, Gisburn where Richard was one of five children. He and his brother enlisted at Blackburn with Richard being killed at the Somme but his brother did return home from the war and farmed after his father's death in 1918. He is remembered at Epehy Wood Farm Cemetery` in France and also at Gisburn's War Memorial and at Paythorne. He is also named on the Skipton Division of the Liberal and Conservative Associations.
FREDERICK JAMES MASON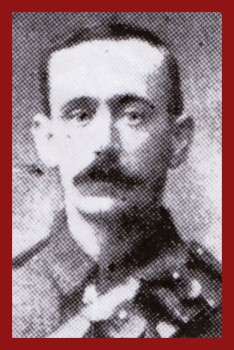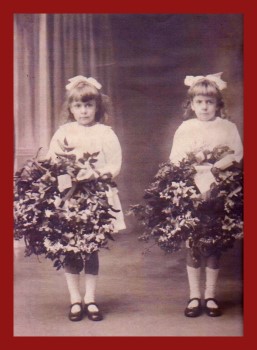 PRIVATE
LANCASTER FUSILLIERS
DIED 16 August 1917 AGE 32
Born in Dent his family lived at Leyburn and Bainbridge. The family moved to Skipton and in 1911 census he was registered as living at 5 Wilson's Yard at Skipton. He married Minnie in 19037 and had 5 children: Robert, Edgar, John, Mary and Ivy .He worked on farms in the area and for Mr. Chester at Carleton. Later he became an agent for the Refuge Insurance Company. He enlisted at Settle and it is reported that he died in an ambulance which was hit by a shell. He was reported missing on 16 August 1917 but official notification of his death was not received until June 1918. He is named at the Tyne Cot Memorial along with 11,956 others. He is also named on the Gisburn and Skipton War memorials. The picture shows his daughters preparing to lay a wreath at the Skipton Memorial.
JOHN PARKINSON
PRIVATE ROYAL AUSTRALIAN INFANTRY
DIED 1 September 1918 AGE 31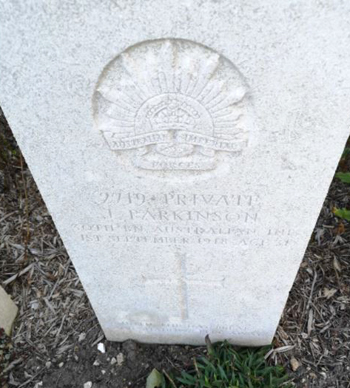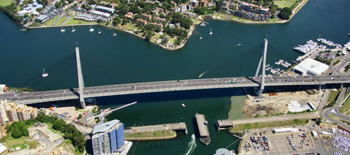 John was born in Rimington the son of John and Jane Parkinson. His mother was the caretaker at Martin Top Chapel. The census of 1901 shows him residing at Martin Top House being employed by Mr. Henry Jackson. Around 1910 he emigrated to Chatswood, Sydney, Australia. He is buried at St Sever Cemetery, Rouen. He is named on the Australian National Memorial in Canberra and also at Martin Top Chapel and Gisburn Memorials.
Next to the picture of his headstone at St Sever is a picture of one of the many Australian and New Zealand Army Corps (ANZAC) bridges. This one is in Sydney.
ROBERT PARSONS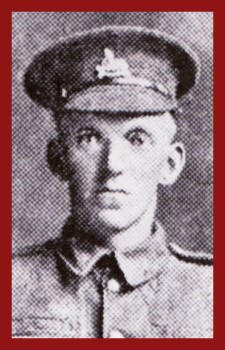 PRIVATE
NORTH STAFFORDSHIRE REGIMENT
DIED 24 April 1918 AGE 31
Born at Rathmell the son of Robert and Alice (nee Frankland) Parsons he lived at Millgate House, Rathmell. In the 1901 census he resided at Mitton Hall being employed by Mr. Robert Dibb. Later he worked for Mr. Capstick of Rimington whilst his parents farmed at Stories Farm, Elslack, Skipton. His father died in 1913 and his mother in 1917. He enlisted at Keighley in August 1917. Four days after admission into the Number 8 Stationary Hospital he died of his wounds He is buried at the Boulogne Eastern Cemetery in France and also remembered at Rathmell Church on the family grave where his parents are buried.
HERBERT SELWOOD
PRIVATE
LANCASHIRE FUSILIERS
DIED 31 July 1917 AGE 19
Herbert was born in Clitheroe at 1 Roefield Cottages He was the son of John and Rebecca Selwood In 1911 he was living at 10 Back Commons and did work at Pendleton Hall before being in service at Rimington. He enlisted when he was 16 but when his age was discovered he did not go to the front until May 1917. His elder brothers Walter and Earnest were both injured in the war and discharged. His sister Florence was a nurse at the Military Hospital in Wisbech, Cambridgeshire. It was not until 24th May 1918 that official notification of his death, on 31 July 1917, was sent to his mother. He is commemorated at the Ypres Menin Gate Memorial and also on the War Memorial at Clitheroe Castle. The Memorial in Clitheroe was paid for by subscriptions from residents and unveiled in 1923. Herbert is one of the 324 names that are on it. After the death of Herbert and her husband, Rebecca Selwood immigrated to Des Moines, Iowa, U.SA.
ARTHUR TOWNSON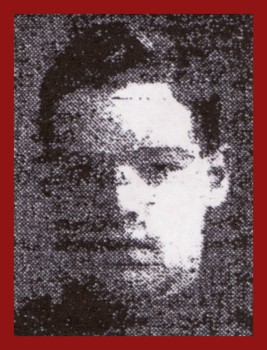 LANCE CORPORAL
ROYAL WORCESTERSHIRE REGIMENT
DIED 9 October 1917 AGE 20
Arthur was born at Raikes Farm Rimington. Later the family, his parents William and Mary, moved to Bridge End, Sawley. He was a joiner with Mr. Read at Grindleton and was associated with the Wesleyan Chapel at Sawley. In a letter sent by his Commanding Officer to his parents it reads:"It is with much regret that I find that I must write to you to express my sympathy in your great loss. Your son died in the fulfilment of his duty and met a painless death .During the few months that I have known your son he proved to be one of the smartest men in the company and, without doubt, one of the best and most cheerful of workers. I know he will be sadly missed"He is buried with 81 others at the Ruisseau Farm Cemetery, in Belgium, and remembered on the Memorials at Grindleton and Sawley.
HERBERT WILSON

Unfortunately no war records or information can be found about this soldier. The only information that can be found is that he worked at Wood Farm, part of the Downham Estate, yet he is not remembered on the Downham Memorial.
WILLIAM WINDER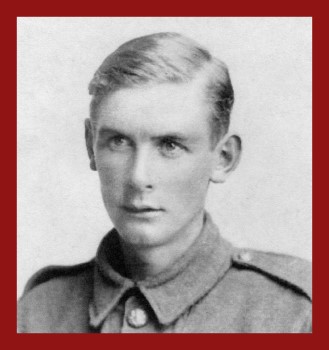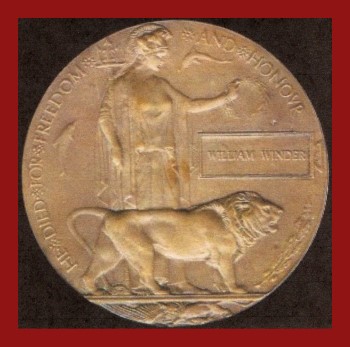 RIFLEMAN
ROYAL IRISH RIFLES
DIED 7 July 1916 AGE 21
William grew up at Sykes Farm, Dunsop Bridge, the son of Richard and Mary Alice Winder. Later his parents moved to Holme Head, Dunsop Bridge. In the 1911 census William was working at Southfield House, Downham for Mr. Richard Collinge. Later he worked for Mr. Jackson a farmer and auctioneer at Whytha Farm, Rimington. He is remembered at the Thiepval Memorial in France with 72,315 others. A memorial service was held at the Bishops House, Dunsop Bridge and also at Slaidburn Church. He is named on the War memorials of Slaidburn, Dunsop Bridge and Whitewell.
WORLD WAR II
FREDDIE DUCKWORTH HOLDEN

RAF

DIED 29 September 1942 AGE 23
Freddie was a descendant of the Duckworth family that lived in Rimington for many years. He was based at RAF Lindale but died in Israel. He is buried at Ramleh War Cemetery. His mother campaigned for many years to have his body returned to Rimington but to no avail. She requested that after her death her ashes be buried at his grave.
To read a newspaper report about his death click here (PDF)
To read about his memorial service, at Rimington, click here (PDF)
ARTHUR BROWN
LANCE CORPORAL
1ST BATTALION, DURHAM LIGHT INFANTRY

DIED 19 October 1944 AGE 21

Arthur was the son of Harold and Ethel (nee Booth) who were married in the Burnley area in 1920. Arthur had two sisters.

Extracts from Clitheroe Advertiser articles for Arthur Brown

''Corporal Arthur Brown, only son of Mr & Mrs H Brown of Hard House Farm, Rimington, aged 22 was killed in action on 10th inst.
An official notification to this effect was received by his parents on Wednesday.
Joining the Army two years ago, he was attached to the Durham Light Infantry, and but a few months elapsed before he went overseas to Egypt, later crossing the Mediterranean, with the Eighth Army to Italy, where he had been in some of the severest of fighting. Well known throughout the Gisburn district as a keen farmer, Cpl Brown possessed a cheery disposition and was especially popular with the young folk. He was treasurer of the Young Farmers Club on its formation in 1939 and before joining up he was attached to the local N.F.S. Heartfelt sympathy will be extended to Mr & Mrs Brown and their two daughters in the great loss they have suffered.''

''Mr & Mrs Brown of Hard House Farm Rimington, whose son, Corporal Arthur Brown was reported killed in action last month, have received the following tribute to his bravery from his Commanding Officer. "Your son had only recently been transferred to my Company, but he at once won the respect and admiration of officers and men alike, and on the day in question, by his coolness and splendid leadership, and final self-sacrifice, he most definitely helped to win the day.''
Arthur Brown is also recorded on the Gisburn War Memorial. He is buried at the Coriano Ridge War Cemetery, Italy.

KENNETH BRADLEY
ABLE SEAMAN
ROYAL NAVY

DIED 1 March 1946 AGE 20
Kenneth was the son of James William and Nancy Maria Bradley of Barnoldswick. He served on H.M.S. Woolwich and died in the Naval Hospital at Northwood, Middlesex. For a few years, prior to enlistment, he had been employed by Mr J Carr of Sandilands Farm, Rimington. He is buried, in a Commonwealth War Grave, at St Mary le Ghyll church, Barnoldswick.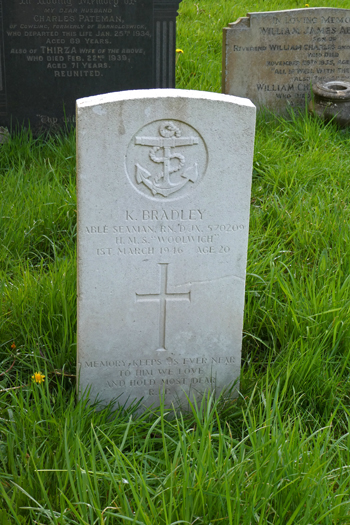 To view the pictures in a larger format click on any of the images and use arrows to move to left or right. Click outside the image to return to the main screen.